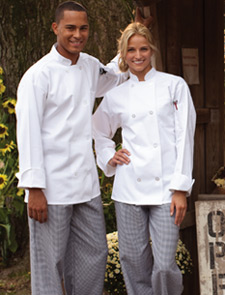 We provide an extensive selection of uniforms and apparel for the food service and hospitality industry including restaurants, caterers and any food service operation.

Choose from stock and custom uniforms, chefwear, aprons, server shirts and hats from brands such as Edwards, Uncommon Threads, Dickies, VF Imagewear and more.

We also provide greenTAB™, a new line of recycled chef apparel that utilized up to 80% of post consumer waste. To find the greenTAB™ products, look for the greenTAB™ logo on items in the Uncommon Threads catalog.

Create a polished look with restaurant and food service uniforms that are durable and comfortable; from short sleeves and light innovative fabrics to vibrant colors with hip and stylish tailoring – all with your logo or corporate branding for the most professional appearance.


Restaurant Uniforms
Chef Coats
Chef Hats
Chef Pants
Aprons
Food Prep and Line Cook Uniforms
Server Uniforms
Host/Hostess Uniforms


Hospitality Uniforms
Casino Uniforms
Bellman & Doorman Uniforms
Valet Uniforms
Hotel / Resort Uniforms
Front Desk Uniforms
Housekeeping Uniforms
and more…



Custom Food Service Uniforms and Company Logo Uniforms
For all your complete custom food service uniform solutions, Trogo Sales provides company branding and embroidered/silkscreened logos for all your uniforms. Our stylish personalization options help build your brand and keep all employees looking their professional best.

Simply select products from any of these catalogs and send the product name and quantities; 
Just indicate if you'd like spec samples, order quantity, delivery needs and embroidery or silk screening needs.

We will provide you with a cost competitive quote as well as product recommendations based on your needs, all with our full service guarantee. If you're not sure of what you need, we will help you pick the right uniform. We can source any custom and special order at no additional cost.