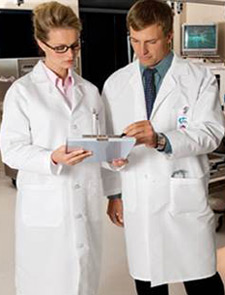 For all your medical, dental and veterinary uniform needs, we carry the full line of Landau and Eagle hospital uniforms, lab coats and scrubs for men and women.
Our huge selection of medical and nursing uniforms are durable, comfortable and stylish.  Fabrics include 100% cotton and cotton/poly stretch for fitted looks that feel soft and smooth.
We can provide petite, tall, plus size and Unisex options, fashion and printed scrubs for just about any need. All nursing scrubs and uniforms can be customized with your logo, corporate branding or employee name for  the most polished and professional appearance.
Lab Coats
Women's Lab Coats
Men's Lab Coats
Unisex Lab Coats
Multi-Pocket Lab Coats
Princess Seam Lab Coats
Vented Lab Coats
Twill Lab Coats
Scrubs and Hospital Uniforms
Scrub Tops – print scrub tops, stretch scrub tops
Scrub Pants – Cargo, Drawstring and Stretch scrub pants
Scrub Jackets
Scrub Sets
Dental Assistant Uniforms
Veterinarian Uniforms
Custom Medical Uniform and Scrubs
For all your complete custom lab coats, scrubs and medical uniforms, Trogo Sales provides company and medical facility branding via embroidered or silkscreened logo applications.
Simply select products from any of these catalogs and send the product name and quantities; indicate if you'd like spec samples, order quantity, delivery needs and embroidery or silk screening needs.
We will provide you with a cost competitive quote as well as product recommendations based on your needs, all with our full service guarantee. If you're not sure of what you need, we will help you pick the right uniform. We can source any custom and special order at no additional cost.