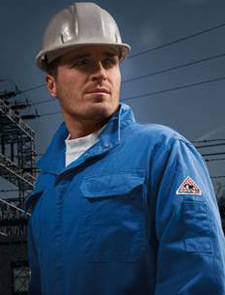 Make sure that employees and workers are protected with functional and durable Flame-Resistant (FR) workwear designed to deliver maximum safety.
We offer FR protective work apparel and protective clothing from the top brands such as Carhartt and Bulwark at very low prices.
FR protective clothing is used for continuous wear in designated areas where intermittent exposure to flame or heat is possible. FR workwear is ideal for fire protection in several industries including Oil & Gas, Electric, Utility and Manufacturing Industries.
FR Protective Performance Requirements
Because these fabrics are flame resistant, they are also acceptable under the Occupational Safety & Health Administration (OSHA) Final Rule 1910.269, Final Rule on Electrical Protective Equipment
Trogo Sales also provides garments that meet these additional requirements:
ASTM International Standard F2302-08 for labeling protective clothing as heat and flame resistant
National Fire Protection Association (NFPA) Standard 70E, NFPA 2112
Arc-rated HRC 1-4
ASTM Standard F1506-02a, Flame Resistant Materials for Wearing Apparel for Use by Electrical Workers Exposed to Momentary Electric Arc and Related Thermal Hazards

Men's and Women's Protective Apparel Products
FR Shirts
FR Pants and Jeans
FR Coveralls
FR Outerwear
FR Bibs
FR Balaclava
FR Beanies
FR Jackets and Sweatshirts

Custom Flame Resistant Workwear and Company Logo FR Workwear
For all your complete custom flame resistant workwear and uniform solutions, Trogo Sales provides company branding and embroidered/silkscreened logos an all workwear and employee work uniforms for many industries requiring fire protection.
Simply select products from any of these catalogs and send the product name and quantities; 
indicate if you'd like spec samples, order quantity, delivery needs and embroidery or silk screening needs.
We will provide you with a cost competitive quote as well as product recommendations based on your needs, all with our full service guarantee. If you're not sure of what you need, we will help you pick the right uniform. We can source any custom and special order at no additional cost.