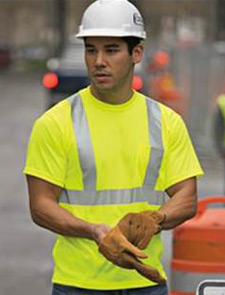 Make sure that employees and workers are protected with functional and 
durable high visibility workwear designed to deliver maximum safety with top brands 
like Red Kap, Charles River and VF Imagewear.
Our collection of affordable protection and ANSI compliant
 safety wear provides visibility with ANSI Class I, Class II and Class III workwear 
including jackets, vests, shirts, and T-shirts.
All ANSI compliant safety wear is available in cotton, poly/cotton blends
 and moisture wicking polyester in both lightweight and heavyweight materials to ensure 
year round compliance.
Colors available include High Visibility Lime, Yellow or Orange and in sizes from Small to 6XL. Ideal for warehouse workers, landscaping, construction crews, security and event safety- 
all customizable with personalization and company logos with our silk screening services.
Our ANSI Class Hi Visibility T-Shirts provide the same high visibility standards as safety vests 
and in many cases offer more comfort and can be less cumbersome.
Men's and Women's High Visibility Uniforms and Reflective Workwear Products
Public Safety and Traffic Safety Vests
High Visibility Shirts and T-Shirts
High Visibility Sweatshirts
Reflective bibs and coveralls
Reflective Jackets and Breathable Windbreakers
Safety Rain suits
Reflective hats and caps
High visibility work pants
High visibility shin reflectors
Custom Safety Uniforms and Reflective Workwear
Trogo Sales provides full uniform customization include company branding and embroidered/silkscreened logos on all high visibility and reflective workwear.
Simply select products from any of these catalogs and send the product name and quantities; 
indicate if you'd like spec samples, order quantity, delivery needs and embroidery or silk screening needs.
We will provide you with a cost competitive quote as well as product recommendations based on your needs, all with our full service guarantee. If you're not sure of what you need, we will help you pick the right uniform. We can source any custom and special order at no additional cost.