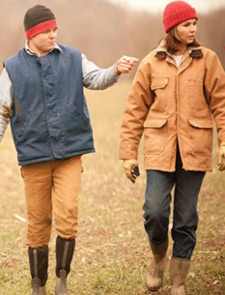 Shop our catalog collection of outdoor workwear and performance 
outdoor clothing to bear the elements. We know that you need 
hard working outdoor wear. It all starts with performance fabrics, rugged
canvas, industrial stitching and rugged zippers.

We've personally selected the best of high quality work outerwear, 
waterproof jackets/rainwear, parkas and coats for just about any outdoor 
job.

We have selected the best brands in outdoor workwear such as Edwards, 
Dickies, Charles River, Cornerstone, Red Kap, Carhartt, and Bulwark 
 for men and women, all at low prices- from the largest to the smallest needs.

We outfit maintenance crews, security officials, electricians, contractors, welders, masons, landscapers, public safety and any job related outdoor workwear needs with durable long lasting outerwear.

Mens Outdoor Workwear
Work Jackets & Lined Jackets
Shop Coats
Rain Jackets
Hoodies
Rain Gear
Work Parkas
Speedsuits
Coveralls
and more…


Women's Outdoor Workwear
Fitted Work Jackets & Lined Jackets
Quilted Shop Coats and Liners
Adjustable Cuff Rain Pants
Rain Bibs
Fleece Hoodies
Vests
Work Parkas
Work Jumpsuits
and more…


Custom Uniforms and Company Logo Uniforms
Trogo Sales provides full uniform customization include company branding and embroidered/silkscreened logos on all employee outdoor workwear.

Simply select products from any of these catalogs and send the product name and quantities;
indicate if you'd like spec samples, order quantity, delivery needs and embroidery or silk screening  needs.

We will provide you with a cost competitive quote as well as product recommendations based on your needs, all with our full service guarantee.   If you're not sure of what you need, we will help you pick the right uniform.  We can source any custom and special order at no additional cost.